Federica Fragapane is an independent information designer. Born in Vercelli in 1988, she graduated in Communication Design from the Milan Polytechnic. Over the years she has done projects for Google, the United Nations, the Publications Office of the European Union, BBC Science Focus, and collaborates periodically with La Lettura - Corriere della Sera. She is coauthor of the Geopolitical Atlas of Water (Hoepli, 2019).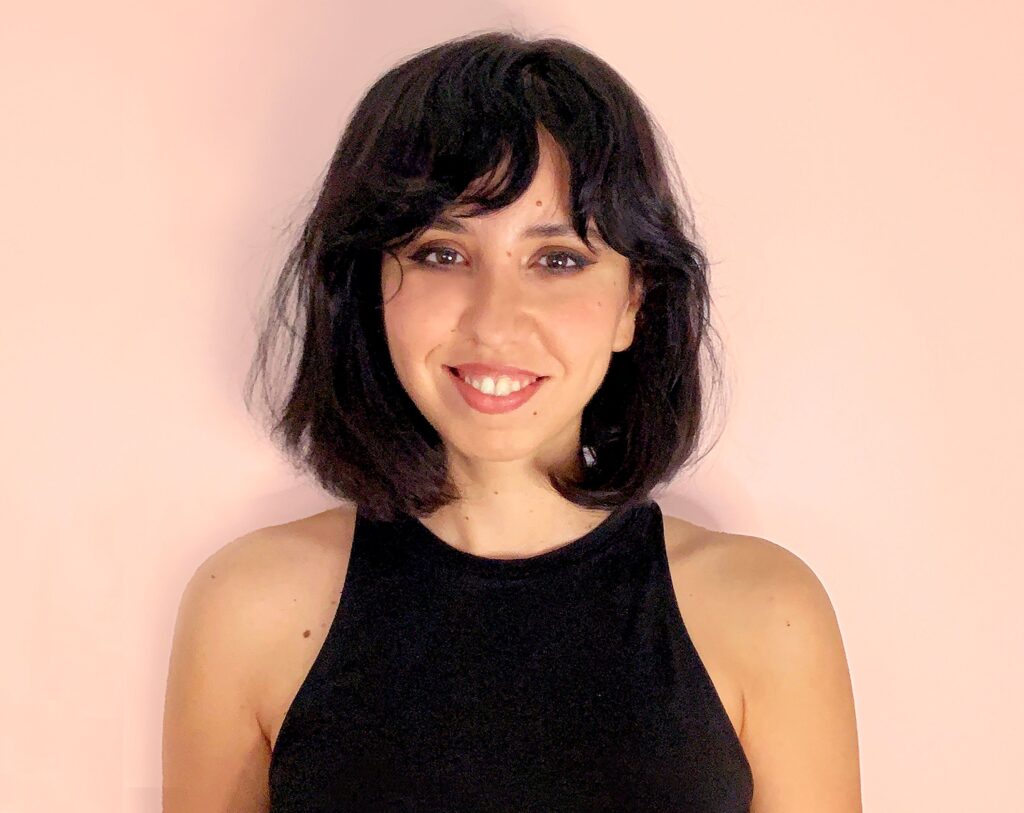 She has lectured as a guest lecturer at Harvard University - Design Lab and the Royal College of Art in London, among others, and was a guest speaker at TEDx Verona.
In October 2021 she was awarded at the Serpentine Galleries with the Pierre Keller Award during the Hublot Design Prize.
The three visualizations-made between 2019 and 2021-were acquired by MoMA's Department of Architecture and Design.
Space Junk, a data visualization published in BBC Science Focus in 2019, tells about the waste we are leaving in space: the visualization shows space debris, classified according to its distance from Earth and the type of object.
Noise Pollution, published in The Reading in 2020, shows data on noise pollution and hearing loss in 50 different cities.
Land Defenders is a data visualization of environmental activists killed in Brazil between 2015 and 2019. The project was produced to accompany an investigative piece written by Yessenia Funes on the death of environmental defender Fernando dos Santos Araújo. It was published in 2021 by Atmos magazine.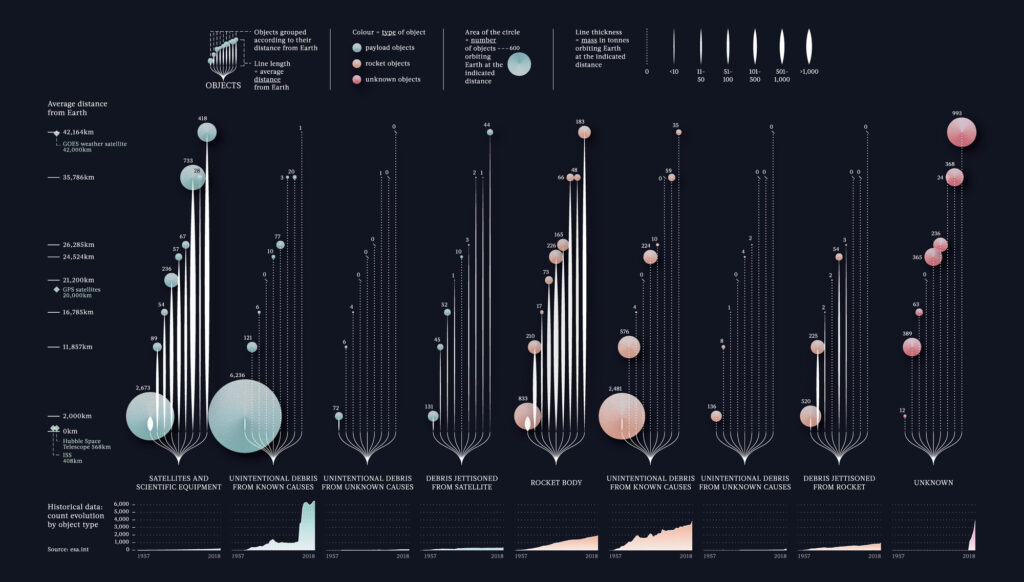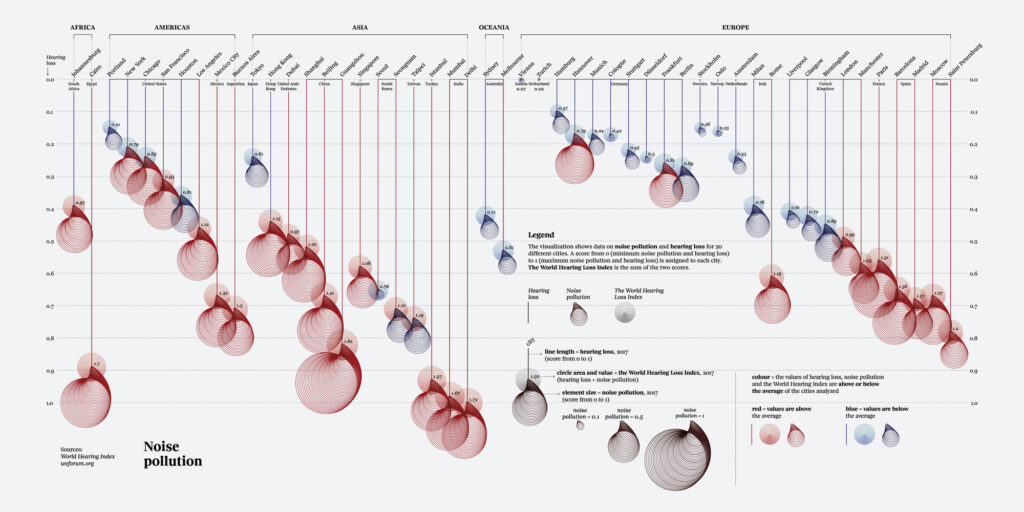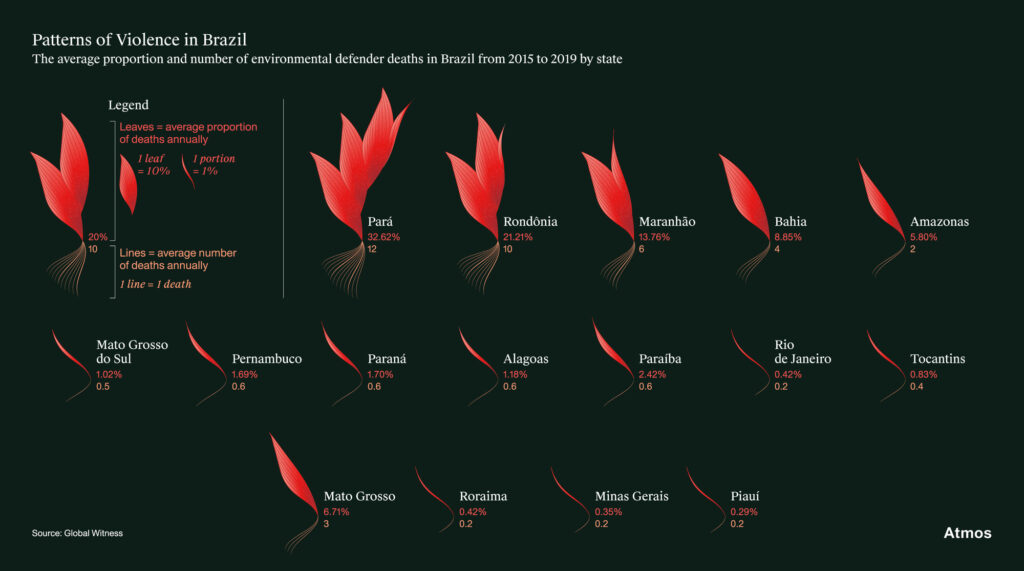 Federica Fragapane's projects aim to narrate issues in their complexity and multidimensionality, allowing them to be read and explored through the creation of static and interactive visualizations. Over the years she has visualized data related to environmental issues, migration and human rights.
"I strongly believe in the communicative potential of data visualization and try to use it to help the telling and reading of complex topics".
Many of his works are characterized by an experimental approach and an ongoing search for forms and languages with which to shape numbers and information. He often uses soft visual elements, reminiscent of organic worlds, to bring to light the human side behind the data.
He also believes that data visualization can be used not only to communicate to people, but also to give them a voice and to provide a tool for those without platforms. In 2016, she created the project The Stories Behind a Line, a visual narrative of the journeys of six asylum seekers who arrived in Italy and stayed at a reception center.
Federica Fragapane writes, "The projects acquired by MoMA are part of my process of searching for visual languages with which to communicate numbers, information and - above all - stories. Shaping data helps to read and understand them. I often talk about how for me drawing visualizations is like writing. I write in visual words to tell about issues that are close to my heart, to bring urgent and little-known information to light, or even simply to make readers discover something new.These are the reasons that drove the design process behind the three visualizations that are now part of MoMA's collection.
Data visualization for me is not the end, but it is a medium whose purpose is to communicate and narrate. The form of that medium is itself part of the communication process. The words we use are important and important to me are the visual words I draw. Experimenting visually, attending to aesthetics and combining attention to content with a deep study of the forms used are fundamental steps in my design process. With my work-and with its forms-I try (and hope!) to invite people to approach my visualizations and read and discover data and stories.
I sincerely thank the people who have so far approached my projects and read them, I thank BBC Science Focus, La Lettura and Atmos for giving me the space to experiment and communicate, and I thank the Museum of Modern Art for this great honor".