One day in 2007, the telephone rang at Noah Guitars, an Italian guitar manufacturer. There was a man on the line who, speaking in English, introduced himself as Lou Reed's manager. The singer-songwriter and founder of the historic Velvet Underground band, ranked by Rolling Stone as one of the 100 greatest artists of all time, was looking for a guitar that could give him a new sound and he was considering a metal instrument. He was thinking about one in particular: a guitar designed by Lorenzo Palmeri, with a body made from aeronautical aluminium which at the time was on show at the Triennale Milano's Design Museum in an exhibition on new generations of designers.
When he was told about it, Palmeri thought it was a joke and on the day of the meeting he even turned up late. "The meeting was at the offices of Noah Guitars in Milan, but I thought it was all a set up," he remembers today from his office. But Lou Reed was really there.
"As soon as I walked in, he did something amazing. He stood up, hugged me and told me: 'That's my guitar'."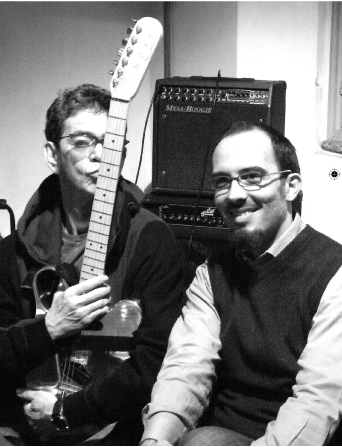 "I use this guitar to illustrate how difficult it is to control a design once it leaves your studio. Without any use of marketing, it has led a surreal and extremely fortuitous life. A few months after I finished it, it was selected for the first museum of design in Milano; just being in that exhibition was an achievement for me. The place in which it was initially positioned within the museum wasn't right because it didn't get the right light, so it was moved several times until it ended up at the entrance. It was the first and the last thing you saw. You ask yourself how it ended up with Lou Reed. I would say that it was a string of good luck."".
Jovanotti's bass player, Saturnino, was there that day and remembers one of Lou Reed's comments: "
"This guitar, unlike all the others I have seen and played, is different. You see that there is great technology behind it."
Technology that led him to define it as: "My magic guitar". Nominated in 2017 as an "Ambassador of Italian Design" as part of the Italian Design Day, Lorenzo Palmeri is an architect, designer and musician, alumnus and also a teacher. Looking back on his studies, he says: "I would say that the Politecnico taught me to survive once I left the Politecnico."
Do you live in Italy and want to receive the next two editions of MAP? Donate now.
.