Science fantasy aside, state-of-the-art robotics (together with increasing knowledge of the mechanisms that regulate the human body) already offers us technologies of great utility in the healthcare setting : prostheses, exoskeletons and devices for rehabilitation and healthcare, designed by teams who masterfully mix engineering, medicine, design and dialogue with patients (namely those who will use such devices).
Do you remember Hannes, the robotic hand? Developed by INAIL [National Institute for Insurance against Accidents at Work] and IIT (the Italian Institute of Technology), it restores 90% of the lost functionality for people who have un-dergone arm amputations. Its industrial design was conceived by ddpstudio, founded by three Alumni: Lorenzo De Bartolomeis, Gabriele Diamanti and Filippo Poli. It is precisely the interdisciplinary origin of its design that won Hannes the 2018 ADI Design Index award for innovation: «Due to the quality of your work which consequently represents value for design and for our country"; and, in 2020, the coveted Compasso d'Oro award.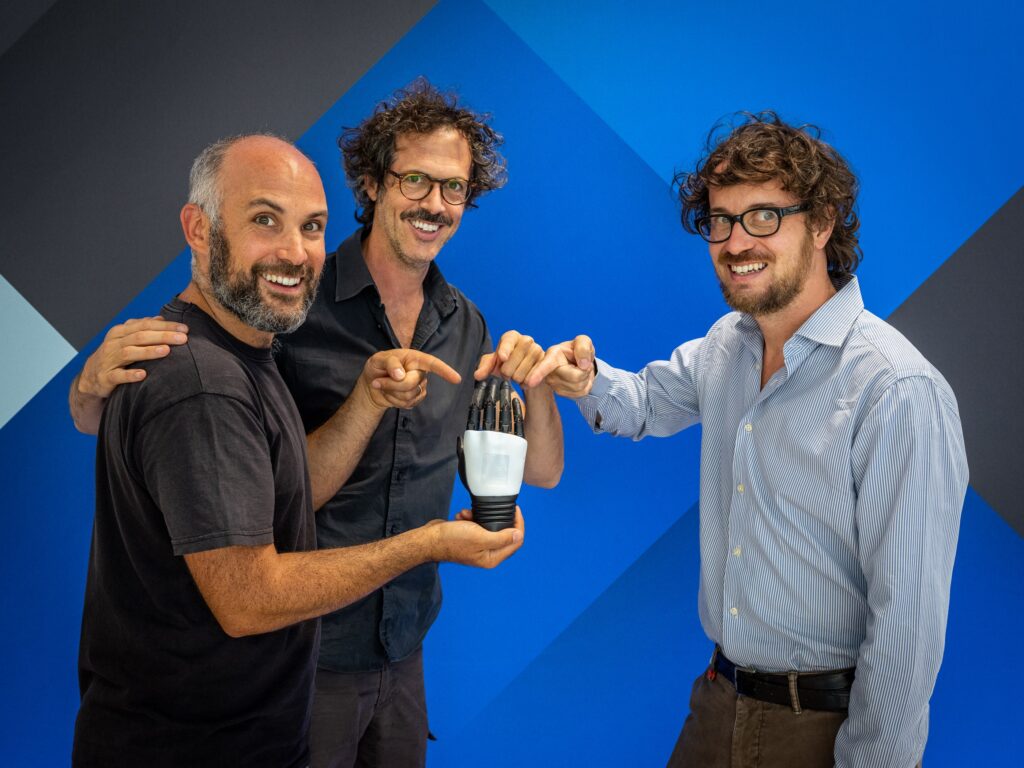 According to the reasoning behind the award, "The design is proven to be an essential tool for helping people in difficulty to regain control of their future. Technology and aesthetics help to overcome psychological distress and physical handicap". And, in the words of Marco Zambelli – who lost his right hand in a workplace accident more than 40 years ago at the age of 16 – this is precisely what Hannes effectively does. He is the "patient zero" for whom Hannes was designed. He told us about the first time he used it: "I got emotional. I realised that I could regain my right hand"
Now Hannes will have a little brother, based on the design conceived at the same ddpstudio.
TWIN, THE EXOSKELETON THAT MAKES IT POSSIBLE TO WALK AGAIN
Twin, the robot exoskeleton, is a device for the neuromotor rehabilitation of patients with locomotive and balance deficits arising as a result of spinal injuries or strokes. In short, it allows patients with spinal cord injuries to walk inde-pendently. Like Hannes, it has been designed by INAIL, IIT and, for the industrial design, ddpstudio. Again, it owes its recent fame to its design: it is still in the developmental phase but it is already gaining recognition from around the world.
From overseas, the prestigious Good design Award in the Robotics category. The award was given by the Chicago Athenaeum, comprising the Museum of Architecture and Design in the same US city and the European Centre for Architecture Art Design and Urban Studies. In its "homeland", Twin has been included in the 2021ADI Design Index 2021, in the design for people category, it has qualified for the final selection of the 2022 Compasso d'Oro, and will be on display at the ADI Design Museum from mid-June.
Lastly, it received the 2022 IF International Forum Design award, in the Medicine/Health Product category, awarded to the designers who collaborated in the development of the device. TheIF Design Award is considered one of the most prestigious design awards in the world. TWIN was selected from among 11,000 applications submitted by 57 countries and assessed by a panel of 132 members, made up of independent experts from all over the world.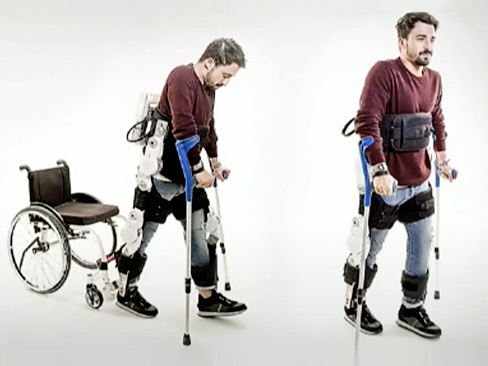 AN X-RAY OF OUR TWIN: HOW IS IT DONE?
Twin is a wearable autonomous robotic device , that allows people with full or partial spinal injuries to walk again. Its technology is capable of assessing rehabilitative progress and setting the level of assistance at all times; it uses the patient's residual movement to help them walk, intervening – only if necessary – to support them and help them correctly take steps. When the patient leans forward, Twin moves. To stop, the user moves slightly in the opposite direction, bringing their torso back to an upright position. The "cruising" speed is around 2 or 2.5 km/h, more or less half that of a healthy subject.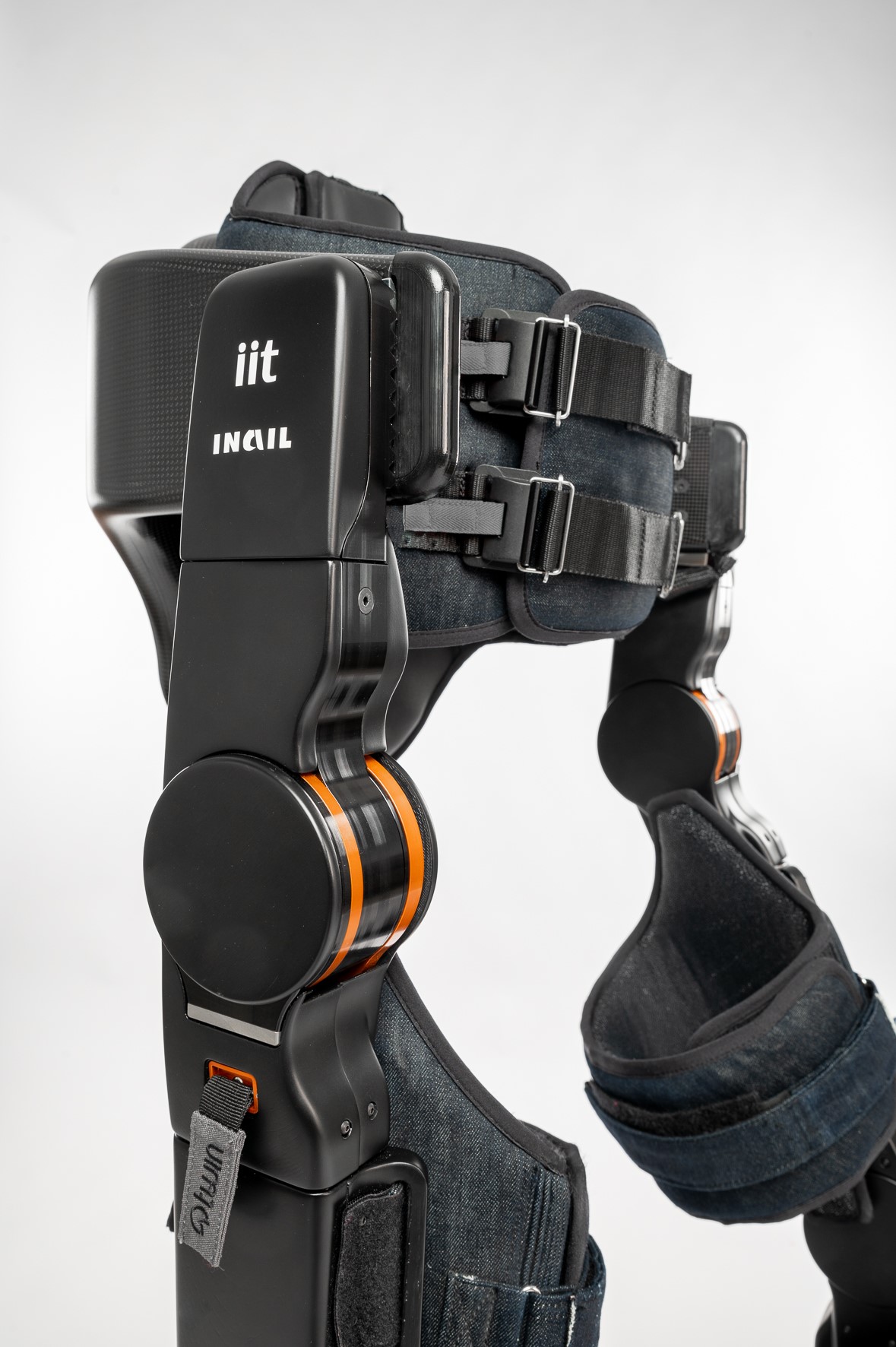 It is conceived to be used in combination with a wheelchair, at least for now. It makes it possible to move easily from the sitting position to the standing position, can be disassembled and is easy to put on in a few minutes, while remain-ing seated. It is height-adjustable and can support users weighing up to 110 kg.
It is made up of a rigid structure that keeps the patient in an upright position and has 4 motors, two on the hips and two on the knees. The pelvis is a carbon fibre shell containing Twin's brain and heart – or its control system and batter-ies. Its range allows for up to 4 hours of continuous walking.
It is the fruit of a shared design process which involved a multidisciplinary team of patients, clinicians, researchers, engineers and designers in all phases of its development.
"It is a very long process, which started in 2014 and is still not complete", says Gabriele Diamanti. "And it is a design-centric project, that is, it's based on patient needs: in fact, in the initial phase we participated in various focus groups with paraplegic patients and visited their care centres. From there, the mechanical concept was born and then, piece by piece, the technology was implemented.
Various prototypes were created over the years, each being tested with patients to detect problems and opportunities in terms of its implementation. There is still a long road ahead before Twin is completely finalised: "The award-winning prototype has already been surpassed", adds De Bartolomeis. "For us it is strange, because what seemed novel to eve-ryone else, actually has now newer form and functionality. Since it is a research project, the team is working on a platform that will, over the next three years, give life to solutions with various applications and functions (obviously these cannot be published yet)".
WOULD YOU GO FOR A WALK, TO THE SUPERMARKET OR TO THE BAR WEARING AN EXOSKELETON?
Once finalised, Twin will undergo clinical trials, certification and then be released to the public. And, once again, it will encounter human beings: how will it be received?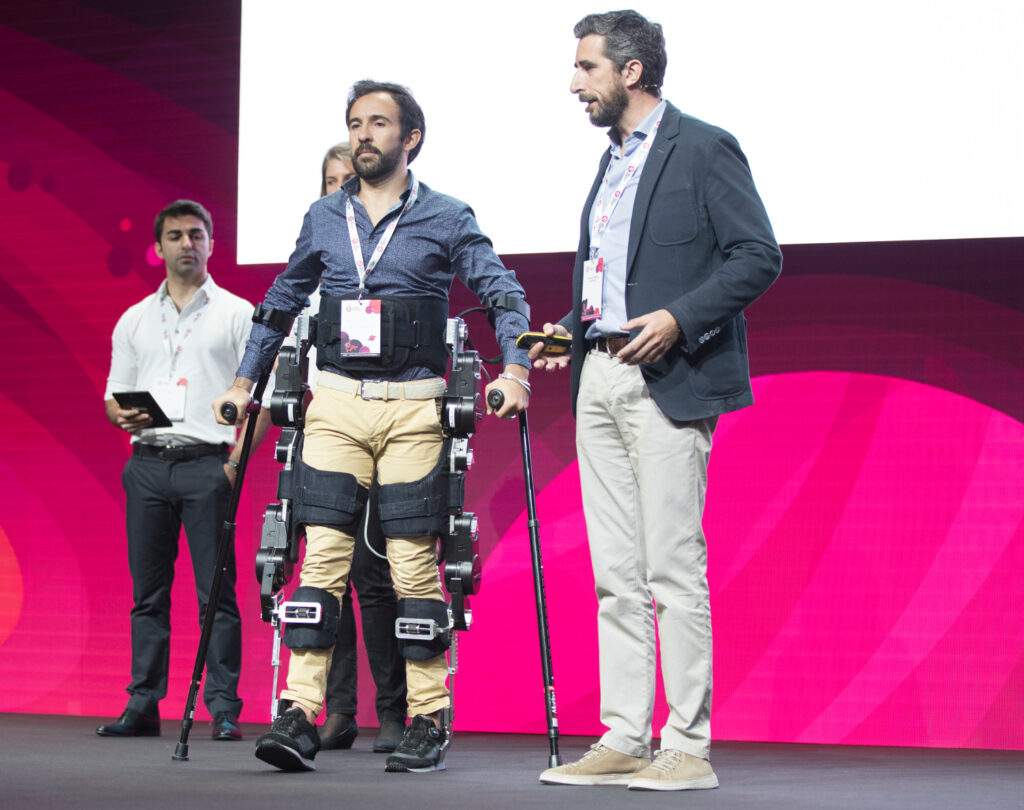 "Working on this project for years and speaking with many people, patients and doctors, we have realised that the response cannot be taken for granted", says Diamanti."Patients can have preconceptions, which may be either too positive or too negative, in relation to the idea of using an exoskeleton, and this influences test results to a great ex-tent. There are patients who reject it, because they ask themselves: do I need to wear that thing? I can go much faster with my chair that you "bipeds". Because when it is born, technology is still behind nature. Other patients have a lot of faith in it, because it unlocks the possibility of interacting, looking at people in the eyes at the same height. It is partly down to habit and partly down to attitudes towards innovation. Another major issue is prejudice at the social level: wheelchairs themselves are now considered normal, but 50 years ago everyone would stare at a person going down the street in a wheelchair. Innovation is not only technological, but also cultural. When everyone stares at you while you do your shopping with a robotic exoskeleton, there may be a certain degree of embarrassment. Those who suf-fered their injuries a long time ago also have a different approach to those who have just been injured. And it also de-pends on the type and location of the injury; depending on which vertebrae are involved, it changes the degree of con-trol that one has over their body".
Diamanti concludes:
"In such a varied and technical working team, the education that we have received at the Politecnico makes us feel at home".
Credits home: Web Marketing Festival
Credits header: iF Design Award