The students from Skyward Experimental Rocketry – the Politecnico di Milano association created with the aim of delivering and building sounding rockets – took home a historic victory: in October 2022, they triumphed in the international "European Rocketry Challenge – EuRoC 2022", the most important European university rocket launch competition, organized by the Portuguese Space Agency.  
The team from the Politecnico had already finished second last year with the Lynx, but this year the Pyxis carried them to the top of the podium, winning two technical awards.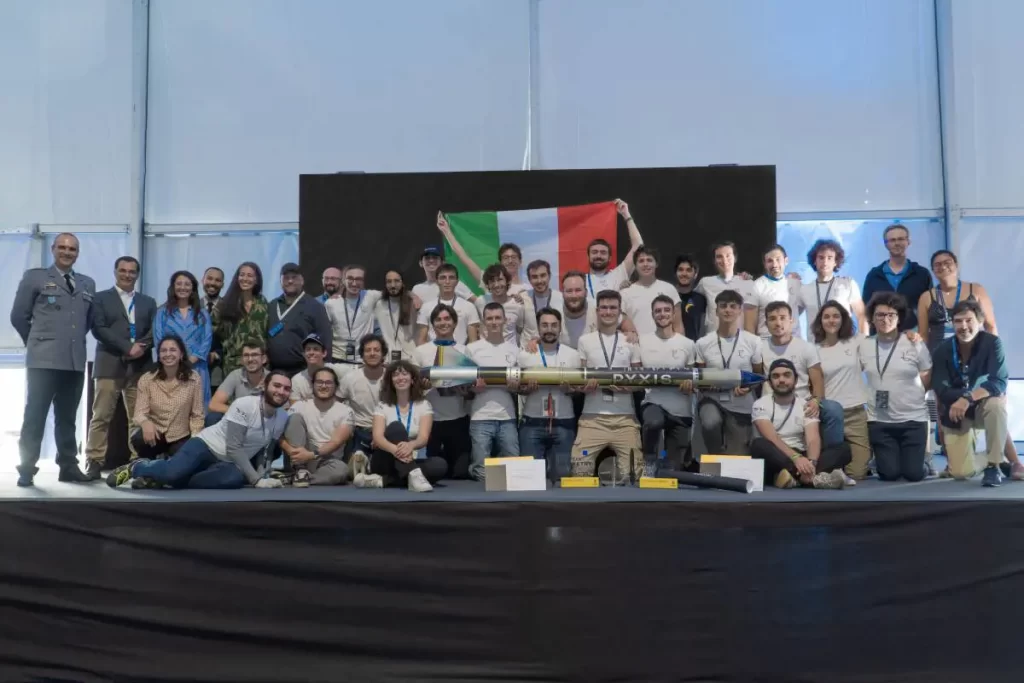 Two and a half metres tall, 15 cm in diameter and featuring a lightweight carbon fiber and glass structure, the Pyxis experimental sounding rocket shot to a winning altitude of 3034 metres thanks "to the implementation of a very advanced antenna system and a different sounding rocket recovery", said Nikita Litovchenko, Head of the Department of Skyward Experimental Rocketry in an interview with Ilgiornale.it.  
The technology used allowed – as stated by the jury's motivation – enabled the team to excel "across the board in all aspects of the competition, honouring an exceptional and well-balanced overall effort without diminishing any of the aspects of the competition, whether it be technical documentation, project implementation, teamwork, or flight performance, thus demonstrating a truly remarkable effort and result."
Lamberto Duò, Rector's Delegate for Teaching and Orientation and reference person for international competitions, states: 
"International competitions are challenges that allow students to apply the knowledge acquired during their academic career directly in the field. They are a unique opportunity to develop the ability to design in a group, to practice problem solving and to interact with colleagues from other departments but also from other universities. I am delighted that all the passion shown in recent years has allowed Skyward students to achieve this very important result at international level." 
.