In the 2020-2022 three-year period, the Politecnico has received received more than 10 million euros in donations from individuals and companies. "We've hit the target which we set at the beginning of the three years, as community of donors", commented professor Enrico Zio, President of the Alumni Politecnico di Milano and also delegate of the rector for individual fundraising. "The Association is a community dedicated to the development of the Politecnico, which it supports financially with both donations form its individual members and the involvement of their professional organisations in fundraising projects".
5 AREAS OF INTERVENTION FOR YOUR DONATIONS
First of all, supporting excellence: of the 10 million, around half is used to fund 483 scholarshipsdesigned to reward deserving students. A percentage is reserved to encourage women who wish to study STEM (science, technology, engineering and mathematics) to enrol at the Poli and another (around 600 thousand euros) has funded 15 doctoral scholarships: 15 young researchers who carried out research projects. The main topics they focus on are linked to technology in health, the world of ecological transition and transport.
Around 1,800,000 euros have helped to update the laboratories, instruments and tools, infrastructure and the Politecnico campus . Around 550 thousand euros have funded innovative teachingprojects. More than 2,200,000 euros have been dedicated to high social impact research projects (you can discover them all at this link). The Alumni project has been funded thanks to nearly 300 thousand euros in donations.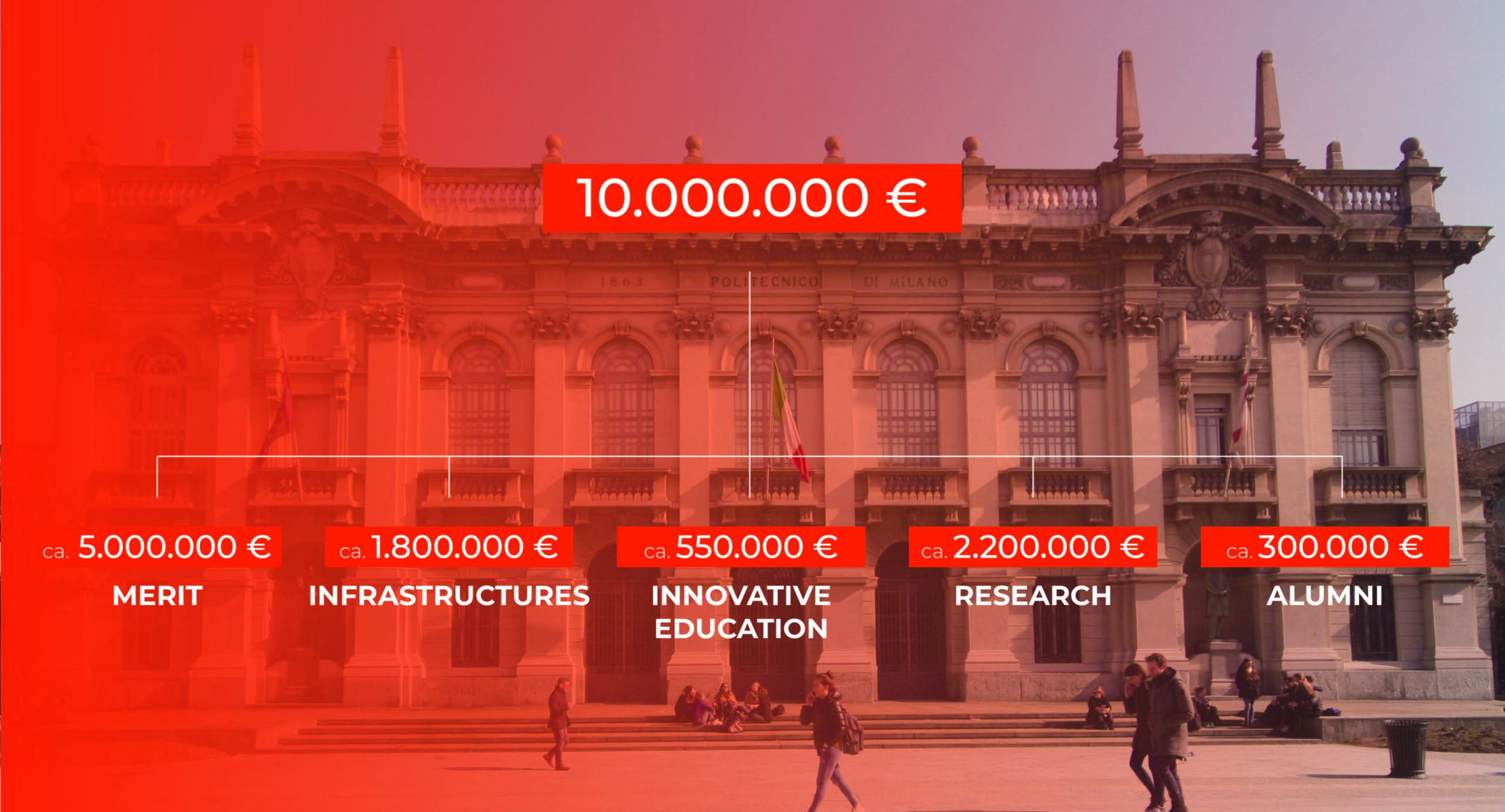 "I am particularly grateful and proud to be able to say that these funds have allowed lots of students to attend the Politecnico', professor Zio comments. "This exceptional result has been achieved thanks to the backing of the Alumni and, in this case, there is also often the added value of meeting with donors, who are accomplished professionals, who make available not only their economic support but also their time and their expertise. To continue in this direction, I invite you to continue to donate and support the activities of the Alumni Politecnico di Milano, to enable the tools of this community to grow so that it becomes increasingly more participative and cohesive."
Discover more: