Politecnico di Milano and CONI - Italian National Olympic Committee signed a framework agreement for the training of students and graduates and carrying out research activities in the plant engineering sector.
The agreement, signed in a meeting at our University, provides for a four-year collaboration for the promotion of training initiatives and learning paths that allow students and graduates to broaden their knowledge relating to implementation and management sports infrastructures, also thanks to the carrying out of laboratory exercises, projects and graduation papers.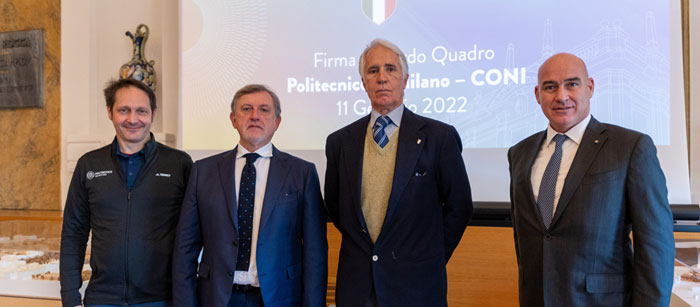 Thanks to the agreement it will also be possible to carry on research aimed at technological innovation in the sector and new resources and courses will be provided for the professional updating of CONI operators.
The event for the signing of the agreement was attended by Giovanni Malagò, President of CONI, Ferruccio Resta , Rector of Politecnico, Emilio Faroldi, Head Scientific of the agreement for Politecnico, and Francesco Calvetti , Rector's Delegate for Sports Activities.