Il Forum, con il tema 'Innovation for Shared Future', si è tenuto in maniera digitale il 5 novembre alla vigilia del 50° anniversario della cooperazione diplomatica tra Italia e Cina. L'obiettivo del Forum era quello di rafforzare la cooperazione tra i due paesi nella ricerca e sviluppo, di coltivare talenti e promuovere uno sviluppo globale sostenibile.
With the theme "Innovation for Shared Future", the online forum brought together over twenty leaders from higher education institutions in China and Italy. The forum witnessed the launch of China-Italy Year of Youth Innovation & Entrepreneurship, a year-long program, that aims to gather collaborative strength across the world to make strategic contributions for innovation-driven development by creating a favorable ecosystem, promoting exchanges between Chinese and Italian youth, and cultivating leading talents.
"COVID-19 does not only pose a threat to the world but also offers an opportunity to transform," commented Rector Ferruccio Resta, "The successful partnership between Tsinghua and the Politecnico di Milano has laid a solid foundation for us to shoulder together the responsibility of higher education institutions in navigating the changes, leading the transformation, and in shaping universities that face the future." "L'ottima collaborazione tra la Tsingua University e il Politecnico ha posto le basi per affrontare insieme le responsabilità e le sfide delle Università nel futuro."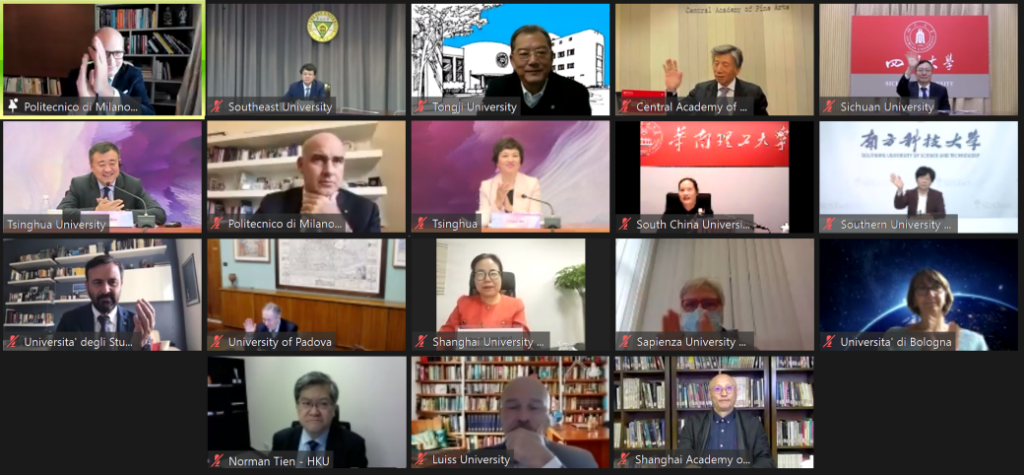 Chen Xu, Chairperson of the Tsinghua University Council, highlighted the importance of working with partners from both China and Italy to promote global sustainable development. "During the past years, Tsinghua has forged extensive and in-depth cooperation with Italian universities in various forms. The China-Italy Design Innovation Hub Tsinghua established in collaboration with the Politecnico di Milano has become a flagship program between the two universities and the two countries."
Giuliano Noci, Vice-Rector for China (Politecnico di Milano), shared his expectations for the China-Italy Design Innovation Hub as well as future cooperation between China and Italy. "Located at the two ends of the ancient Silk Road, China and Italy share a long-lasting friendship and should be regarded as one big family. Taking today's forum as the starting point, let's work hand in hand in contributing towards the post-pandemic world".
Credits header/home: https://www.som.polimi.it/zh-hans/polimi/