The path towards the regeneration of the area Bovisa-Goccia which provides for one of the largest urban-building and infrastructural, redevelopment and environmental restoration projects, takes another important step forward. In fact, the City Council approved the resolution that provides for the signing of an agreement with Politecnico di Milano so that the latter will become the sole implementer of the municipal works that will be carried out in this area.
THE NEW CAMPUS AND THE BOSCO DELLA GOCCIA
Altro passaggio importante previsto dalla convenzione, l'accettazione del progetto che sarà realizzato dallo studio Renzo Piano Building Workshop srl, finanziato integralmente dalla Ion Foundation e dalla stessa donato al Comune e al Politecnico di Milano. Nel dettaglio, il progetto prevede il nuovo Campus universitario sulle aree di proprietà del Politecnico e, per la parte di interesse del Comune, i due edifici di circa 5mila metri quadri ciascuno da destinare alle Civiche Scuole di Milano e la riqualificazione e recupero dell'area denominata 'Bosco della Goccia'. Il progetto comprenderà anche la riqualificazione delle aree esterne di pertinenza degli edifici e il progetto di riordino del sistema di accesso all'area.

"Nei prossimi anni – dichiara l'assessore alla Rigenerazione urbana Giancarlo Tancredi – Milano potrà vantare un intervento straordinario sotto il profilo urbanistico, ambientale e infrastrutturale. Un fiore all'occhiello che sarà possibile realizzare grazie al progetto di Renzo Piano e alla donazione della Fondazione ION alla città. Oggi la Giunta comunale segna un altro decisivo passo avanti: la convenzione con il Politecnico di Milano consentirà infatti di garantire il coordinamento di tutti gli attori coinvolti, pubblici e privati, e di eseguire gli atti e i provvedimenti relativi alle opere in tempi certi. Il Comune di Milano sarà regista di questa grande operazione che considera strategica per il futuro della città".

Le opere saranno finanziate dai fondi del 'Decreto aiuti 2022': 15 milioni di euro per l'intervento della Foresta Urbana e 36 milioni e 980mila euro per i due edifici destinati ad ospitare la Fondazione Scuole Civiche Milano.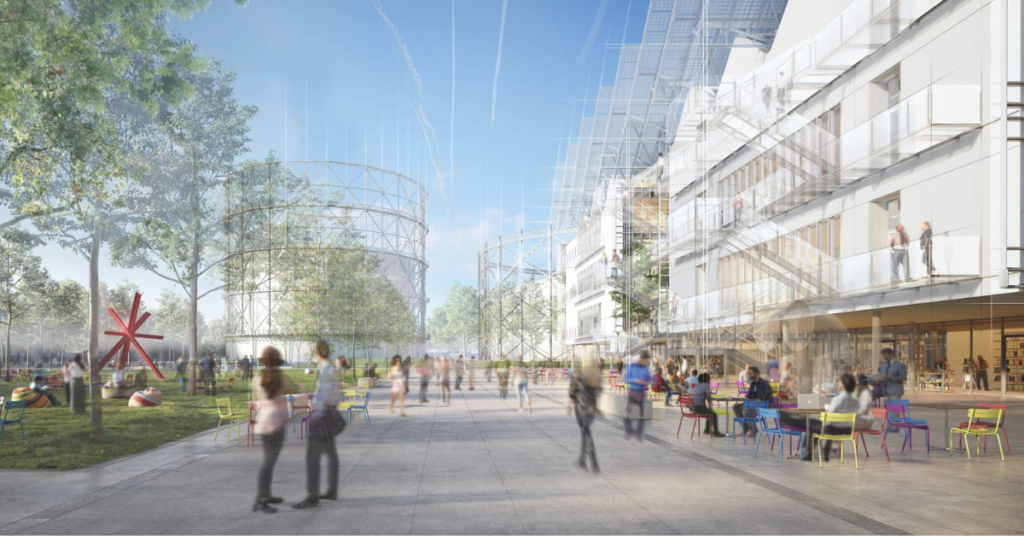 WHAT THE AREA WILL LOOK LIKE
Il Politecnico di Milano realizzerà, come detto, un nuovo campus nella zona dei gasometri grazie alla donazione della Fondazione Ion e al progetto dello studio Rpbw con Renzo Piano. Il campus sarà composto da venti edifici di 4 piani, per un totale di 105.000 mq, che ospiteranno aule, laboratori, residenze, startup e scuole civiche. Il campus sarà collegato alla città e alla regione da un asse ciclo pedonale e da due stazioni ferroviarie rinnovate. Il progetto rispetterà la storia e la natura del luogo, puntando all'indipendenza energetica e all'azzeramento delle emissioni di Co2. Il campus sarà un luogo aperto, innovativo e sostenibile, dedicato al sapere e alla conoscenza.
Source: Milano Today