It's hard to think of a story that brings football and music together so naturally as the story of the song "Guasto d'amore" by Bresh and the Genoa football fans.
The song quickly became a Spotify hit, crossing the boundaries not only between fans but of football itself.
The story is a long one and is also linked to Politecnico di Milano, because two key figures at the Genoa Cricket and Football Club are our Alumni: executive director Flavio Ricciardella, a management engineer, and brand manager Jacopo Pulcini, a designer.
Ricciardella and Pulcini have talked to us about how the Genoa club contributed to the success of this song, but let's start from the beginning.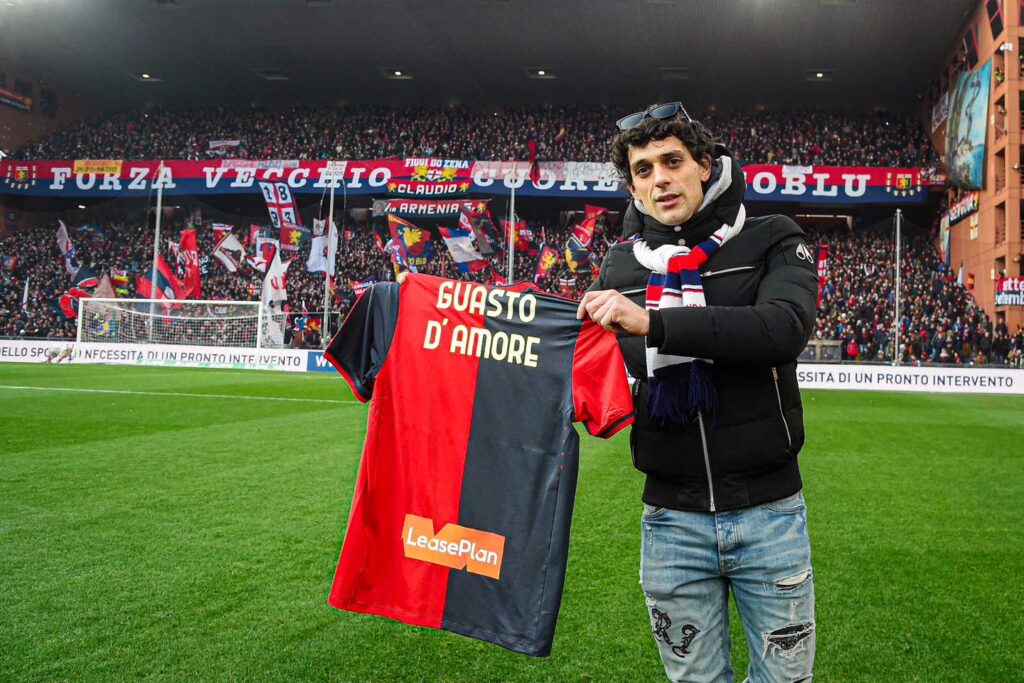 THE WRITING OF THE SONG, WHICH STAYED ON A PHONE
'"Guasto d'amore" is a song with 7 or 8 lives,' as its creator, the Genoese rapper Bresh, 26, confessed to Radio Deejay. 'It all started one night with a friend of mine, Luca Caro, who played the guitar while I recorded a vocal on WhatsApp. The next day we randomly filmed a video at the beach. I kept that video in my phone for a year, then I randomly showed it to a friend who said "Post it!". At that point, the video went somewhat viral among Genoa football fans and a circle of my fans. Mattia Perin (Ed: former Genoa goalkeeper) invited me to his house to sing it while he played the piano.'
Perin, who was captain of the team in 2021, fell in love with it and reposted it on his social media.
Then last year 'when Genoa were already relegated to Serie B, the fans made a choreography using red and blue colours and singing the verse "the same colours that fall into the sea / when the sun sets, without saying goodbye", then I wrote the second verse and finally started doing concerts.'
SPOTIFY HIT
The song was released on Spotify and, on 2 February, it went straight to the top of the weekly Fimi/Gfk chart of the best-selling, most listened to and most downloaded singles in Italy in the previous seven days.
The song beloved by the Genoa football fans was released on streaming platforms on 27 January, but it had entered the fans' collective imagination long before that. Since 27 January, however, it has begun to go beyond football and fans.
From a verse written one evening with a friend, to a stadium chorus, to a universal hit: number one on Spotify Italy and over 10 million streams.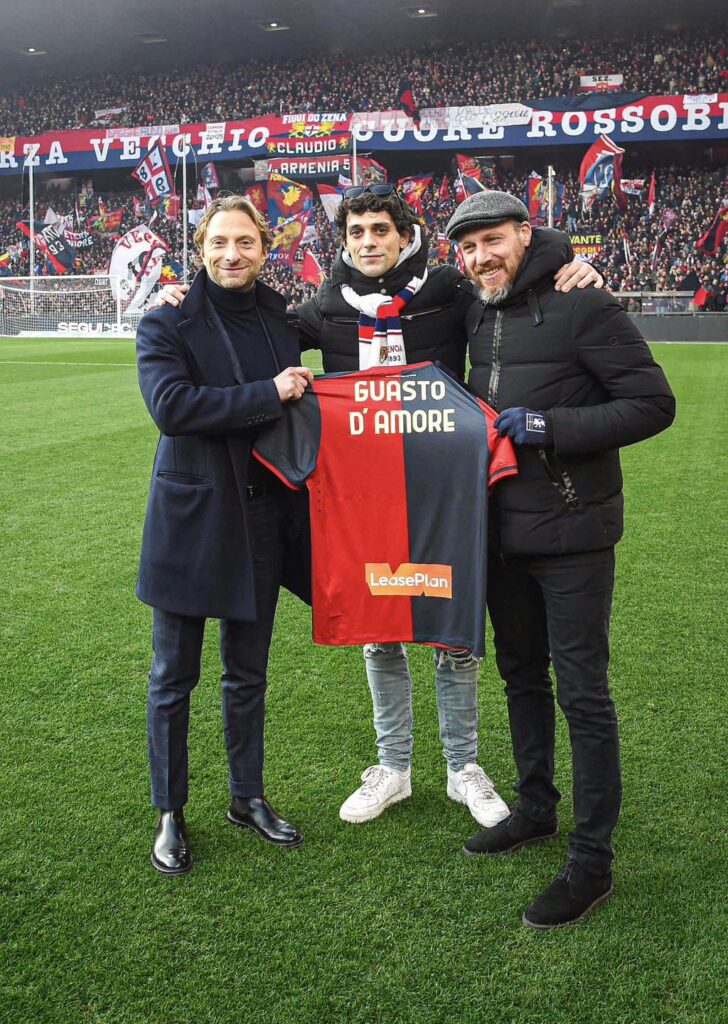 HOW RICCIARDELLA AND PULCINI CONTRIBUTED TO THE SONG'S SUCCESS
Brand manager Jacopo Pulcini explained how the Genoa football club has capitalised on fans' love for the song: 'Since it came out, the song has become a fixed moment in our pre-match setlist, the whole stadium sings it, it creates a unique atmosphere. And when we play at night, we turn off the stadium lights and the fans turn on their mobile phone torches. It's moving and fascinating.'
'After seeing the choreography that the fans made when we had already been relegated,' added executive director Ricciardella, 'we planned the season ticket advertising campaign using that verse as a slogan: "the same colours that fall into the sea / when the sun sets, without saying goodbye".
'I have a love breakdown when I see the Griffin, my stomach trembles and my voice vibrates. And when I see you, you make me fall in love, because if you cheat, I'll let it pass. The same colours that fall into the sea when the sun sets, without saying goodbye.'
Verses that have had an impact on the collective Genoese, and then Italian, unconscious. It's a story to be studied: 'Despite relegation, after 15 years in Serie A, our fans celebrated at the end of last football season. It was an important moment because the fans had already adopted "Guasto d'amore" as their favourite song back then.
'Out of our social media content this season, the posts involving this song are noticeably the best performing of all, it's important for us to be relevant for everything off the field as well as on,' Pulcini said.  
A SIMPLE STORY, BUT DIFFICULT TO REPLICATE
On closer inspection, the story is simple but difficult to replicate: Bresh is from Genoa, a Genoa football fan who goes to matches and is a rapper. Come to think of it, there are many fan musicians, but perhaps only Venditti's songs with Roma can boast a stronger bond than Bresh and Genoa.
THE ROLE OF RICCIARDELLA AND PULCINI AT GENOA FOOTBALL CLUB
Executive Director Flavio Ricciardella, 43, graduated in management engineering from Politecnico in 2007. He joined Genoa football club in 2009 and has held the position of executive director since 2019: 'As executive director I take care of all areas outside of sport, ie the management part. Of course I interact with the sports element, but I don't choose players or enter into technical issues. As a young man I was a football referee at inter-regional level.
'Management engineering has been useful to me, my study background is important in my role. I joined Genoa at a time when football clubs were getting themselves organised.'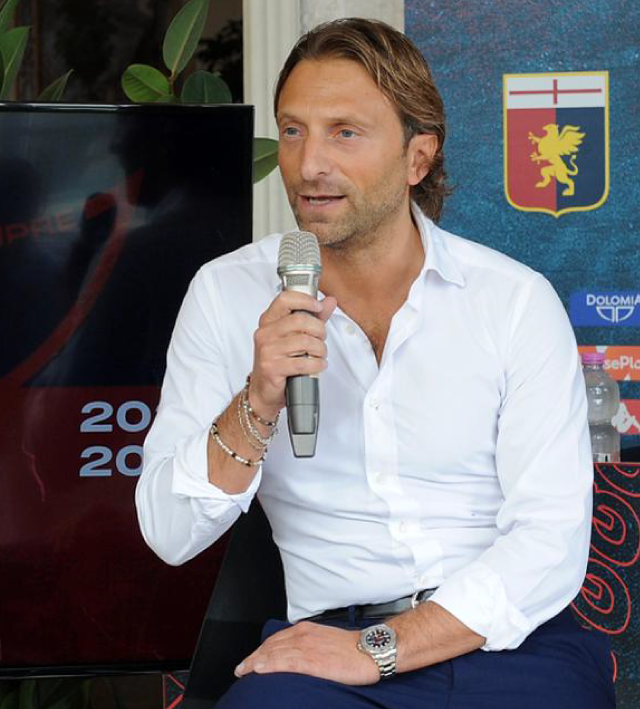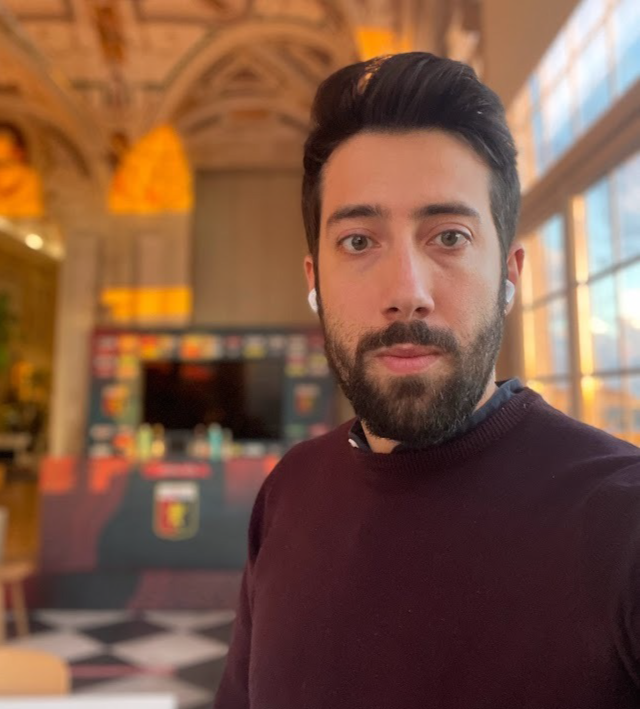 Jacopo Pulcini, 34, is from Genoa and a Genoa football fan. He graduated in communication design from Politecnico: 'I finished in 2013, then worked in the world of sports, collaborating with Sky Sport and Juventus in digital and social communication. I was then an employee of Inter football club for four years, from 2018 to 2022.
'Now I'm back home, at Genoa football club. I'm the Brand and Marketing Manager here, I take care of the club's visual identity, the promotion and sale of Genoa-themed products and the development of our brand image. The work done with Bresh has given our brand great visibility, helping us to reach and engage new generations and audiences not necessarily interested in football.'