Politecnico di Milano is among the top 20 universities in the world in Design, Architecture and Engineering, according to the QS World University Rankings by Subject 2023, the global ranking of the best universities by subject area.
In Design and Architecture, the Politecnico confirms its position among the top 10 universities in the world, in 8th and 10th place respectively. In terms of Engineering, the Politecnico is among the top 20 in the world, in 18th place, in a highly competitive international environment where it is difficult to remain stable in the top positions. In this way, the University, confirming the trend of the last 10 years, reaffirms that it is a university capable of promoting scientific and technological research and innovation, contributing to sustainable and inclusive development.

In comparison with 2022, the Politecnico has significantly progressed up the ranking in: Computer Science (+16); Mechanical, Aeronautical & Manufacturing (+6), Engineering - Electrical & Electronic (+1) Mathematics (+25), Material Sciences (+20), Environmental Sciences (+21), Physics & Astronomy (+29).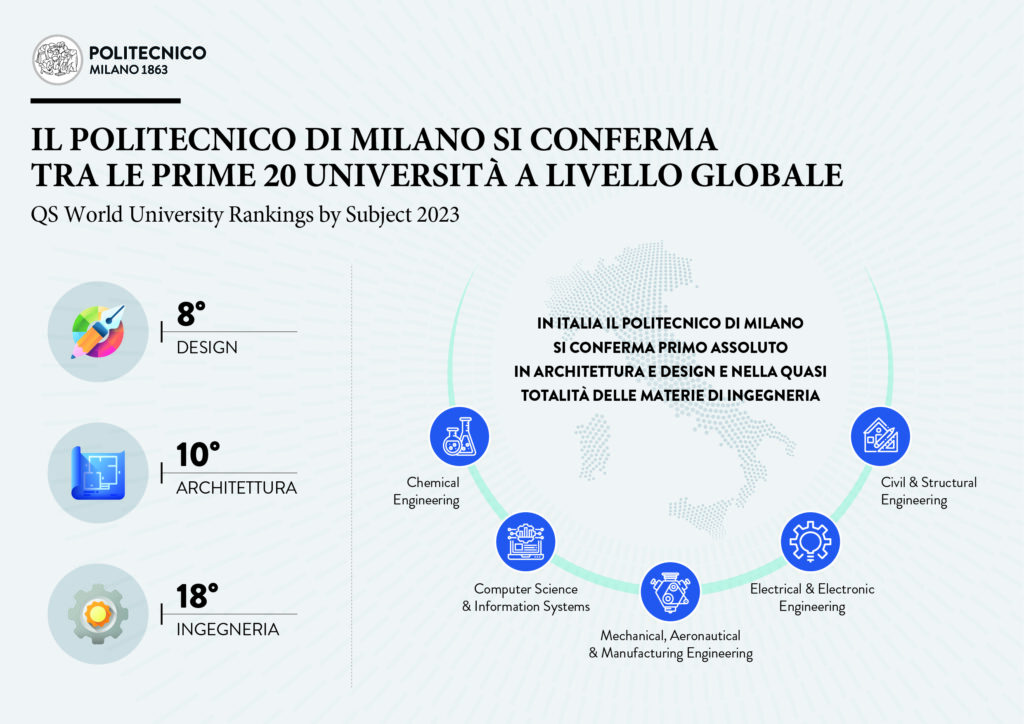 This result was possible mainly due to the Politecnico's excellent reputation (Academic and Employer Reputation), corroborating the positive opinions of employers and other national and international universities. In particular, the Academic Reputation index is the most relevant in the ranking (it makes up 40% of the final evaluation) and is based on the evaluations of more than 150,000 academics from all over the world. Also noteworthy was the result of the new index introduced this year by QS: IRN, which measures the level of international research collaboration.
Le classifiche mondiali sono strumenti che hanno assunto un valore importante nell'orientare i talenti, a livello globale, verso percorsi formativi di qualità e contesti ricettivi. Il tema dell'attrattività è uno dei punti chiave del Piano Strategico del Politecnico di Milano per il prossimo triennio. Per questo l'Ateneo, già forte di un buon posizionamento, lavorerà per dare maggiori opportunità di studio e di ricerca per i giovani, con particolare attenzione alle pari opportunità. Strumenti chiave verso un approccio inclusivo anche in prospettiva internazionale.
In Italy, Politecnico di Milano is confirmed as the absolute frontrunner in Architecture and Design and in almost all engineering subjects (Computer Science and Information Systems; Chemical Engineering; Civil and Structural Engineering; Electrical and Electronic Engineering; Mechanical, Aeronautical and Manufacturing Engineering).
To compile the 2023 rankings, QS considered 1597 universities in 161 countries.