From February 8 until May 15, a piece of Italianfashion history will be on display at the Italian Cultural Institute in LosAngeles in the exhibition 'Gianfranco Ferré. Design Principles', curated by the Gianfranco Ferré Research Centre at the Politecnico di Milano.
The exhibition explores Gianfranco Ferré's unique approach to fashion designthrough a selection of drawings and iconic garments, offering visitors animmersive experience enriched by a digital connection with the Ferré archivethrough images and videos that provide a closer look at thecreation/development of the exhibition.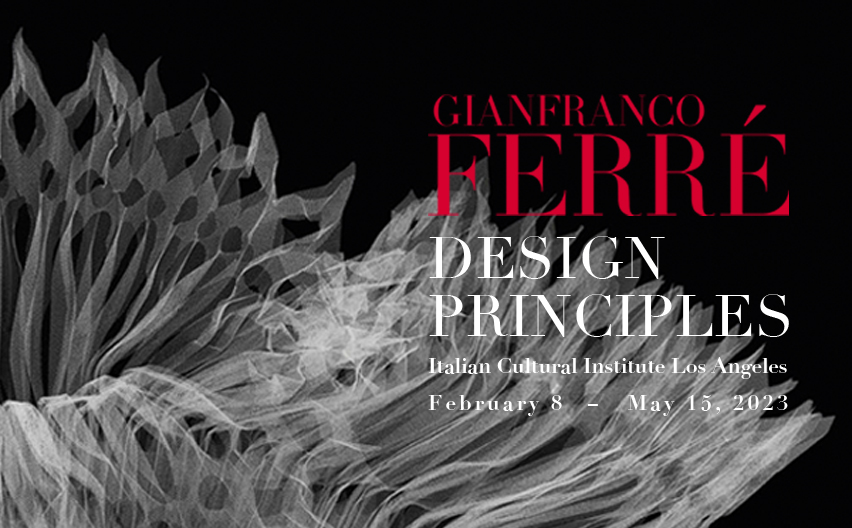 The DRAWINGS WALLis a journey into Ferré's vision of fashion design,understood as a dynamic process, a continuous search for a synthesisbetween art and science, inspiration and compositional rigor, cultural contentand technical innovation.
The garments on display take visitors on an experiential journey into Ferré'sstylistic research, in which the principles of design materialize in the infinitevariations of the archetypal white shirt, a true icon of the designer's creativework.
"'Design Principles' is the first exhibition since the Research Centre wasestablished at the Politecnico, which made it an opportunity for reflection on thedesign principles underlying the work of Gianfranco Ferré, so representative of thepolytechnic culture and the continuous trend towards harmonizing the culture oftechnology and science with that of art. This exhibition also gives us the opportunity toshare some of the very first research experiments that will lead to thedevelopment of an ambitious 'augmented archive' project over the next threeyears."
says Paola Bertola, professor of Designat the Politecnico di Milano.
The drawings and shirts on display are part of the designer's archive –recognized as a heritage 'of particular cultural interest' by the Italian Ministryof Cultural Heritage and Activities – Archive Supervisory Authority forLombardy - and today part of the Historical Archives at the Politecnico di Milano.