His name is Giorgio Panichi , he was born in 2001, and on his twentieth birthday he graduated from Politecnico in Physical Engineering, becoming the youngest graduate in Italy.
Growing up in Ascoli Piceno, he attended first year school and graduated from high school in the fourth year, while he was attending the year abroad in the United States. He then moved to Milan very young, completing his degree course in three years, with a thesis entitled «Design and optimization of waveguides in planar and three-dimensional technology» , focused on microchips that they use light instead of current to transmit data, which are functional for the development of quantum computers.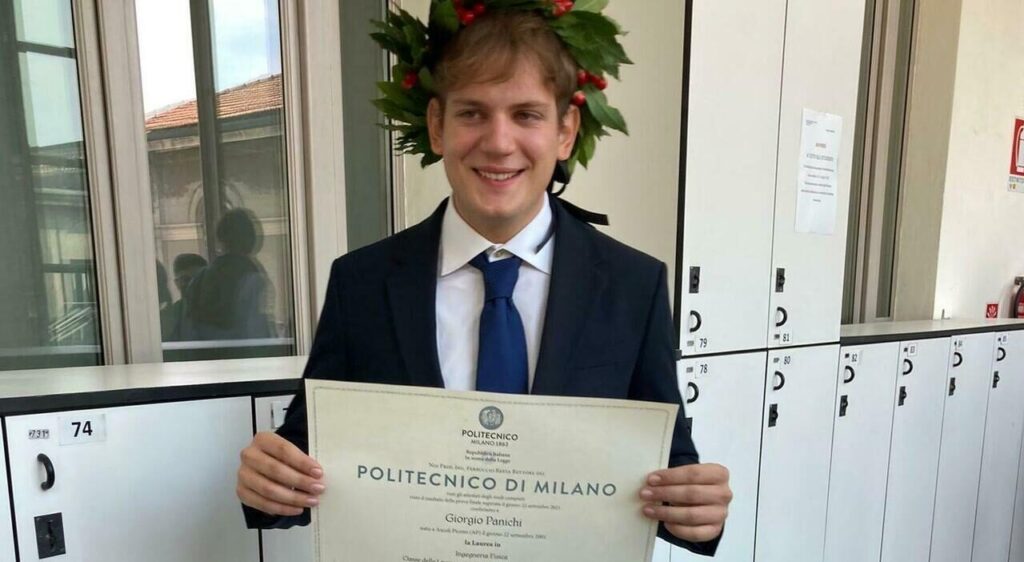 The choice of Physical Engineering at Politecnico was almost obvious, as he himself told in an interview with Open :
"Physics has made me fall in love since I met her in high school. Even as a child I remember watching lessons on YouTube. The Politecnico di Milano not only has a very good history and reputation, but it offered this course in Physical Engineering which brought together some very interesting topics ".
A FEW QUESTIONS ABOUT POLITECNICO AND THE FUTURE
Giorgio's plans for the future : "I will continue in the master's degree and then with some other Masters. I hope to work in the field of quantum computers ".
We have asked him to explain to us what are the most important lessons he has learned at the Politecnico both inside and outside the course of study, and he has clear ideas: "I learned to put a lot of effort right away and to compare myself with my classmates to study". And, as for the advice he is feeling to give to new students now that the semester has just begun, he has no doubts: "Spend a lot of time at Politecnico meet new people and have a lot of new experiences!".
With a free donation (you choose the amount!) You contribute together with other donors to create scholarships that will be used to accompany many students on their university path Donate now .