A team of three polimi students won the 2021 edition of James Dyson Award Italy, the international design award dedicated to young engineers and designers. The three Alumni of Politecnico stood out as the best young inventors among over 2,000 participants who presented their inventions from 28 countries.
Luca Grosso, Silvana Migliozzi and Alessio Puleo, the three master's students of Intregrated Product Design , won the award with the Roadfix project: a tool designed to repair damages to the road surface at no cost to the public budget . In fact, it would be the companies that economically bear the costs of the repairs. The idea is that Roadfix is ​​able to offer advertising spaces to companies, which could imprint their logo on the "hole", once filled, and sponsor its repair, taking advantage of an aesthetic and commercial opportunity oriented towards social value.
HOW DOES IT WORK?
Accidents due to poor road maintenance are the first cost item for municipalities. Pot holes are among the main causes of accidents, especially for micro-mobility. To date, the holes are repaired using cold or hot bitumen using a shovel to fill and level. These methods allow for makeshift repairs that have a very limited duration over time and give an unpleasant aesthetic result.
The idea of ​​Roadfix was therefore created with the aim of improving road safety with more precise and safe repairs , simplifying the work of operators as well as opening new frontiers of marketing. An inspiration that comes from the Japanese art of Kintsugi, that is, repairing broken objects with gold to enhance the cracks and give them a new life. The concept is to improve road defects to make them resources for the city .
The tread will in fact become customizable: the sponsoring companies will be able to imprint a brand on the "patch" and will be able to insert graphics on the side parts of the machine itself , to have also vertical visibility during the repair of the road surface. With this new opportunity it will be possible to find companies willing to advertise by helping our cities.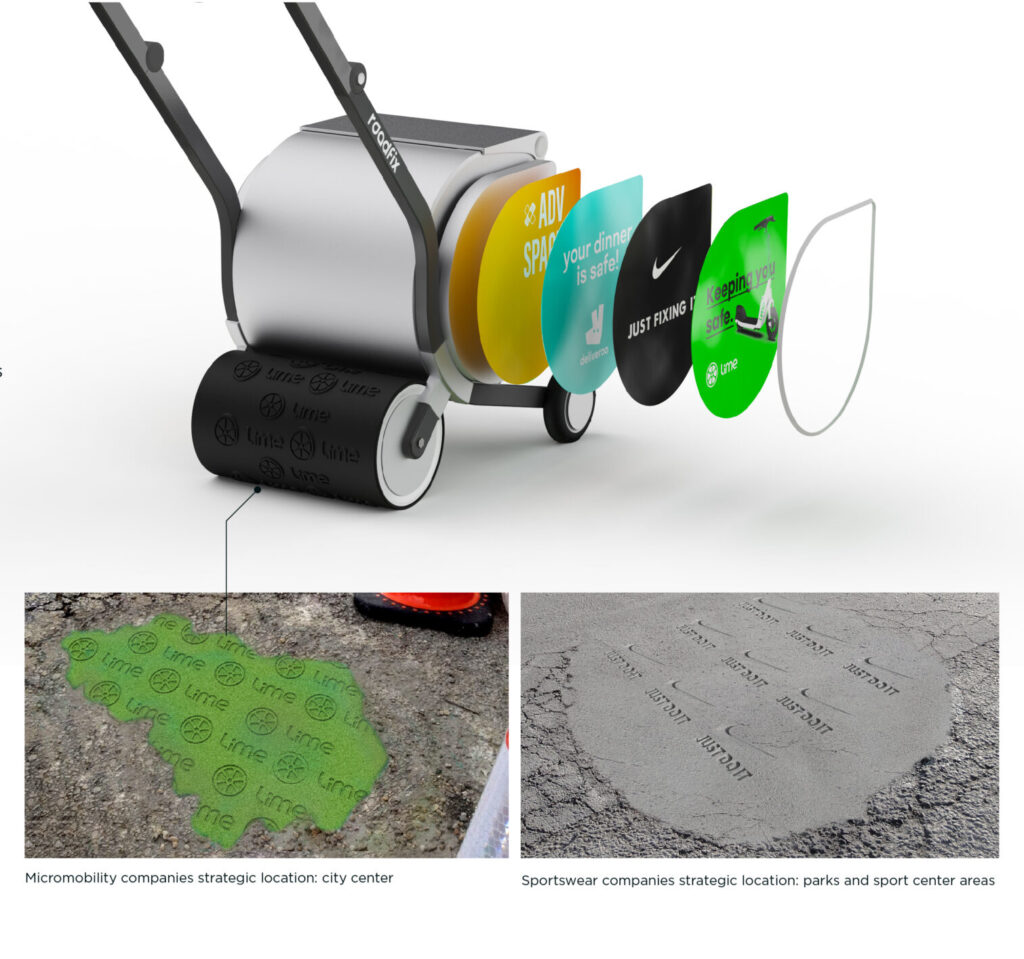 The initial design concept was born during the Concept Design Laboratory of prof. Massimo Bianchini at the Politecnico. After an initial phase of research and development of ideas, it was developed with a study model and tested to understand its ergonomics, proportions and user experience.
The next step is to create a prototype equipped with electrical components for a road test phase , and have some operators try it out to understand in more detail issues related to ergonomics and user experience. Furthermore, companies operating in similar sectors have been identified to propose collaborations to the project.